We encourage all clients to get a qualified veterinarian to do a breeding soundness evaluation and culture on their mares prior to breeding. We offer a LFG (live foal guarantee) on all breedings sold.
 "Live Foal" is defined as a foal that stands alone, nurses and lives for 24 hrs. Should the mare not prove to be in foal the year bred or lose her foal within 24 hrs of birth, the Mare Owner shall notify Stallion Owner within 72 hours of the foaling date or the date the mare is proved not to be in foal or loses her foal. This notification must be ACCOMPANIED WITH A STATEMENT BY A LICENCED VETERINARIAN, verifying the foal is not a "Live Foal" as above, as well as stating cause of death.
In the case that a rebreed is issued, the mare owner will receive ONE free breeding to the stallion the following breeding year to the original booked mare unless otherwise mutually agreed in writing between Mare Owner and Stallion Owner, subject to the Mare Owner paying a shipping fee for the following breeding season.
We are pleased to offer stallion services for the 2023 breeding season! 
---
SMOKIN N ROCKIN (frozen semen only) 
$1500 USD / $1800 CDN LFG includes first shipment.
 FROZEN AVAILABLE IN CANADA and USA.
MBAR OTOE (live cover only) standing at River Hills Ranch - Strathclair, Manitoba $1000 CDN LFG
HES A ZIPPY JACK (live cover only) standing at Wolfe Creek Quarter Horses - Strathclair, Manitoba $1000 CDN LFG
pam-mcintyre@hotmail.com or (204)365-0372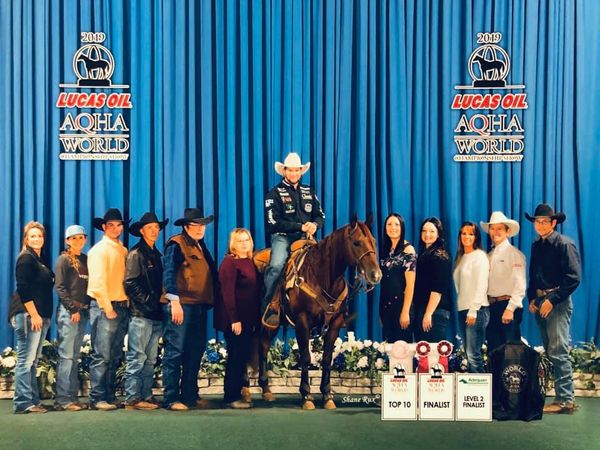 Smokin N Rockin joined our family's program at the start of 2018.
We have extensively shown him heading and heeling with Bobby Lewis Quarter Horses. As well as been highly competitive in the few working cow horse shows he has been entered in. We are thankful for the great opportunity Bobby Lewis Quarter Horses has given us to be able to advance our horse program. It is an honor to be a team with one of the World's top horsemen, having multiple World Championships and industry setting standards.
Smokin N Rockin competed with high scores in the ARHFA World Championship Heading and Heeling as a 4, 5 and 6 yr old.
This stallion has been roped on by not only Bobby Lewis and team, but also Pro Rodeo Qualifiers/Champions Joseph Harrison, Paul Eaves and Levi Simpson.
SMOKIN N ROCKIN - PERFORMANCE RECORD:
Earner of 167 AQHA points and $4,617.
In 2018:
3rd AQHA High Point Junior Heeling;
5th AQHA High Point Open Heeling Stallion;
8th AQHA World Junior Heeling;
5th AQHA World Level 2 Junior Heading;
Top 10 AQHA World Level 2 Junior Heeling;
AQHA World Level 3 Junior Heading finalist;
Tulsa Holiday Circuit Reserve Circuit Champion Heading;
9th Oil Can Classic ARHFA Futurity Open Heeling
In 2019:
Finalist in the AQHA World Junior Heeling;
5th AQHA World Level 2 Junior Heading;
Houston Livestock Show Junior Heading Champion;
Houston Livestock Show Junior Heeling Champion;
Fort Worth Stock Show AQHA Judge 2 Junior Heading Open Class Reserve Champion
In 2020:
Dixie Nationals Champion Working Cow Horse;
Tulsa Holiday Circuit Reserve Circuit Champion Open Performance Halter Stallion;
8th Houston Stock Show AQHA Senior Open Heeling;
AQHA World Show Qualifier, Heading, Heeling, Working Cow Horse
In AQHA competition: Superior Heeling; earning 96.5 heeling (Level 3), Superior Heading; earning 63 heading (Level 3), 5 working cow horse (Level 3), 1/2 VRH Ranch Cutting, 2 halter (Level 3) points in open events; winner of 2 All-Arounds and 2 Reserve All-Arounds, 1 Reserve Grand Championship.
Please feel free to like Smokin N Rockin and follow him on Facebook!
2007
Mbar Otoe is a top hand on the ranch, and in the roping arena. He is by a world class rope horse, Two Eyed JJ. Two Eyed JJ has been roped off of by more than one top hand.. Fred Whitfield, Joe Beaver to name a few! MBar Otoe's colts are proving to be outstanding performers in and out of the arena in all disciplines. They are very willing and easy to train.
2006
Hes A Zippy Jack is owned and raised by our daughter Kelly McIntyre. He really promotes what we raise, top ranch and rope horses all kinds of quality. Jack's colts are willing, and proving to be outstanding in the roping pen. They are debuting in the barrel racing industry, and he is enrolled as a Western Fortunes sire.